2010/06/22/Tue
I must say. I was disappointed....
IN MYSELF !!!!
I just wanna tear-black-corner-cut-cry DDDDD"x
I let down my whole Tekken group. Long story cut short: I was freaking sewing the last bits of organza onto my top and then HAZZAMH ! SOME EFFINGCRACKSIZZLE GLINCHED AND THE MACHINE WENT CRAZY !!! @n@;; and then CRACK goes my needle >_>" then form shock my foots still on the pedal and it goes stabbing my shirt >n<;;
MAI GAWDDDDDD! Now I gotta buy new fabrics. Even though the cons over - I WILL FINISH IT !! >8) and of course my Lightning.
I didn't even come on the Saturday :( and was only at the con for like 2 hours on Sunday :LLL Only long enough for the K-ON! Shoot =n="
Photo@Quake (THANKS DUDE!!)
Mugi@Fuyumi
Azy-nyahhh~@Tammu
SO FAIL !~ I put my hat on the wrong side and my pony tail on the wrong side too >n<;; THIS WEEKEND ! I promise I'll fix it up since my cousins coming over and I usually do mini-mini shoots with her n_n
And then for the rest of my 2 hours I brought myself and my brother (Supa's his first con) to Pinin and Anime @ Abottsford and other places to buy some stuffs *U*
I got a Yoko & Nia Maid vers. figure set <333 and Simca, Mari Plugsuit vers. and yarrrrr~ I love figurines *U* Wish I had more money though :"( And also claimed my Facebook prize 8DD (Mugi Neko Plushie Keychain and a Hetalia Japan keychain <3 xDD And all my brother's One Piece Strong World Stuff :) I wanted to buy but was scared I didn't have enough money for other stuffs >n<;;
And I didn't get to enjoy much of the con because of my contacts. Don't know why but it was difficult to see straight with them on so I strained to see clearly when I should of been concentrating on PHUN ! But I couldn't :( So yeah bad first experience at Supa 8(
Well next event is SMASH! And for that I'll be cosplaying Mari Uniform vers. in the morning and competing with Luka Megurine Sandplay of the Dragon vers :) I just need to finish my Mari logo and that's out of the way =w=
I need to buy more nylon net 8( and gold chain and blue gems and dark fluffy flower stuff and a Luka wig ==' damn the Sandplay wigs are so expensive TnT This is the wig I'm planning to buy from my friend which sells wigs form the eBay store "Fantasy-Sheep" (my favourite store)
But a bit too dark for future Luka use :LLL So maybe I'll buy this one :) From Charissa-kids but I'm not sure...I've seen the featured cosplayer around and the store might of just scabbed it :LL But it has a good positive feedback percent :LL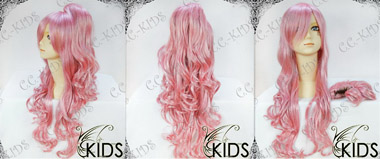 DAHH~ and I gotta save money all over again for Will for making my Serenade prop for next years SMASH! event >n<;; Thanks gawd I opened a drawing class. YARRRRRS I have finally bothered to start a drawing class :) weee~
$20 for 1.5 hours - how does that sound? or maybe $25 :LLLLLLL
I was planning for YGO5Ds shoot this up-coming holidays but it is apparent that I'm going to The Entrance for the holidays ==' Have to either postpone it or cancel it altogether :LLL May cancel >_>" I want to finish my Miku stuffs and continue what I started of Luka :LLL And find a bloody good wig >n<;;
Comments
No title
really cool to make the costumes yourself, i have made many costumes , then i open my costume store myself :)
Re: No title
Wow really? hat's amazing. I've always dreamed of opening a store *U* And I think that's what I've striving for n_n

But it's great that we get to find a job or business through what we love :)
___________________________________________________________________________________
> really cool to make the costumes yourself, i have made many costumes , then i open my costume store myself :)


ふゆみ
| URL | 2010/06/23/Wed 19:06 [
Edit
]
Trackbacks
Copyright © 流星☆. all rights reserved.